Fydetab Duo
£499.00
Open-source and hackable Linux tablet, powered by FydeOS
Expected delivery time: Q4 2023
Description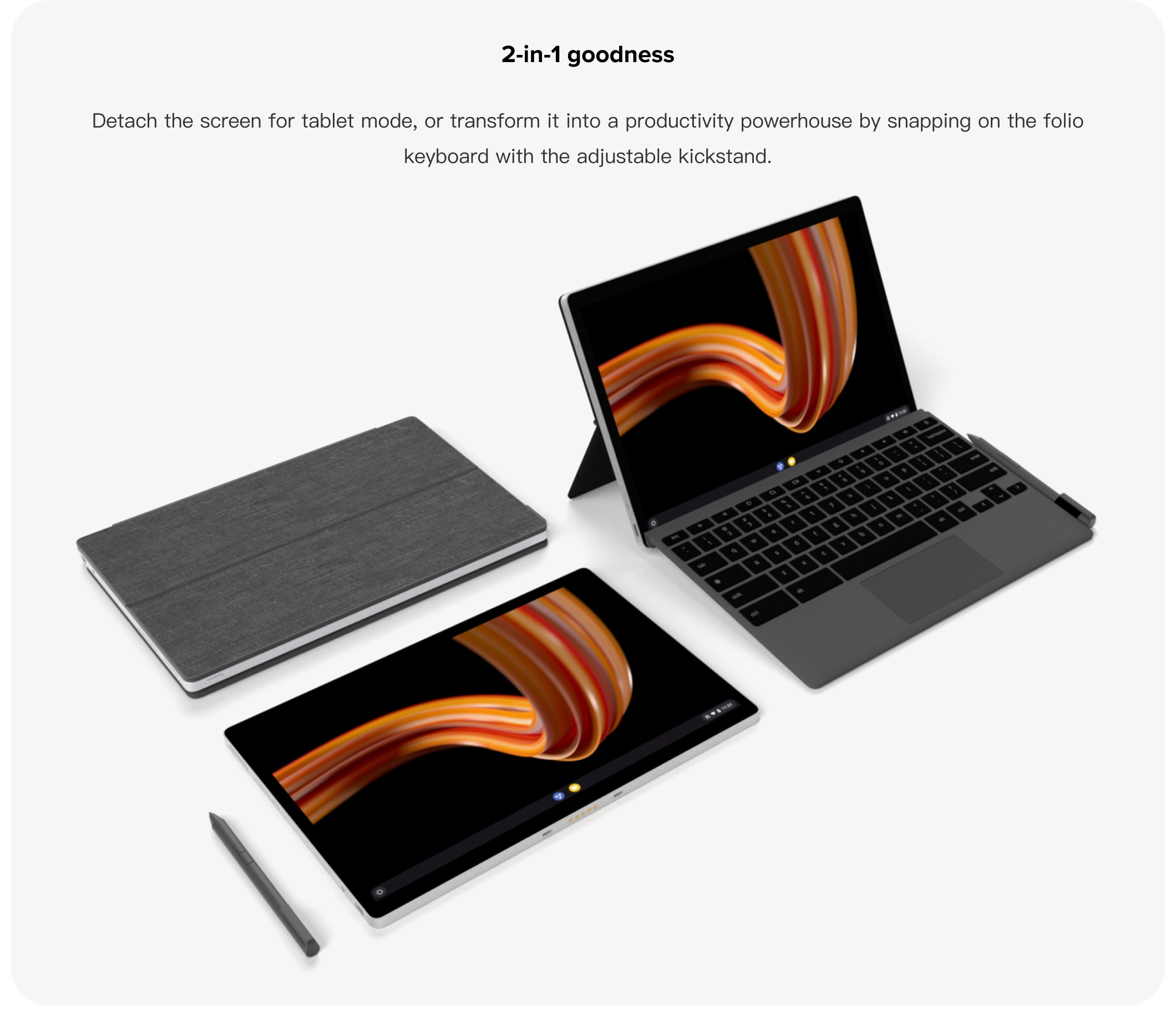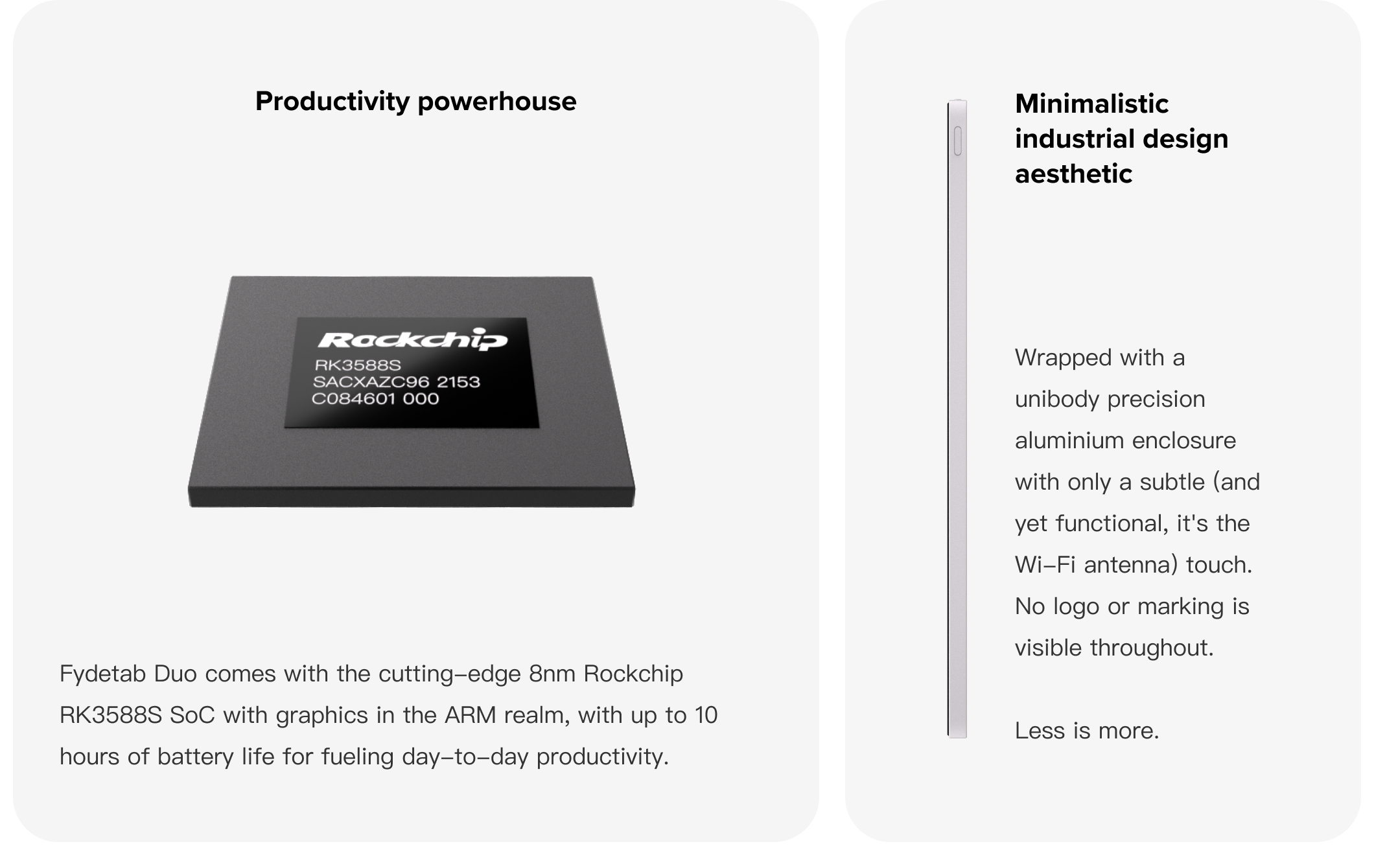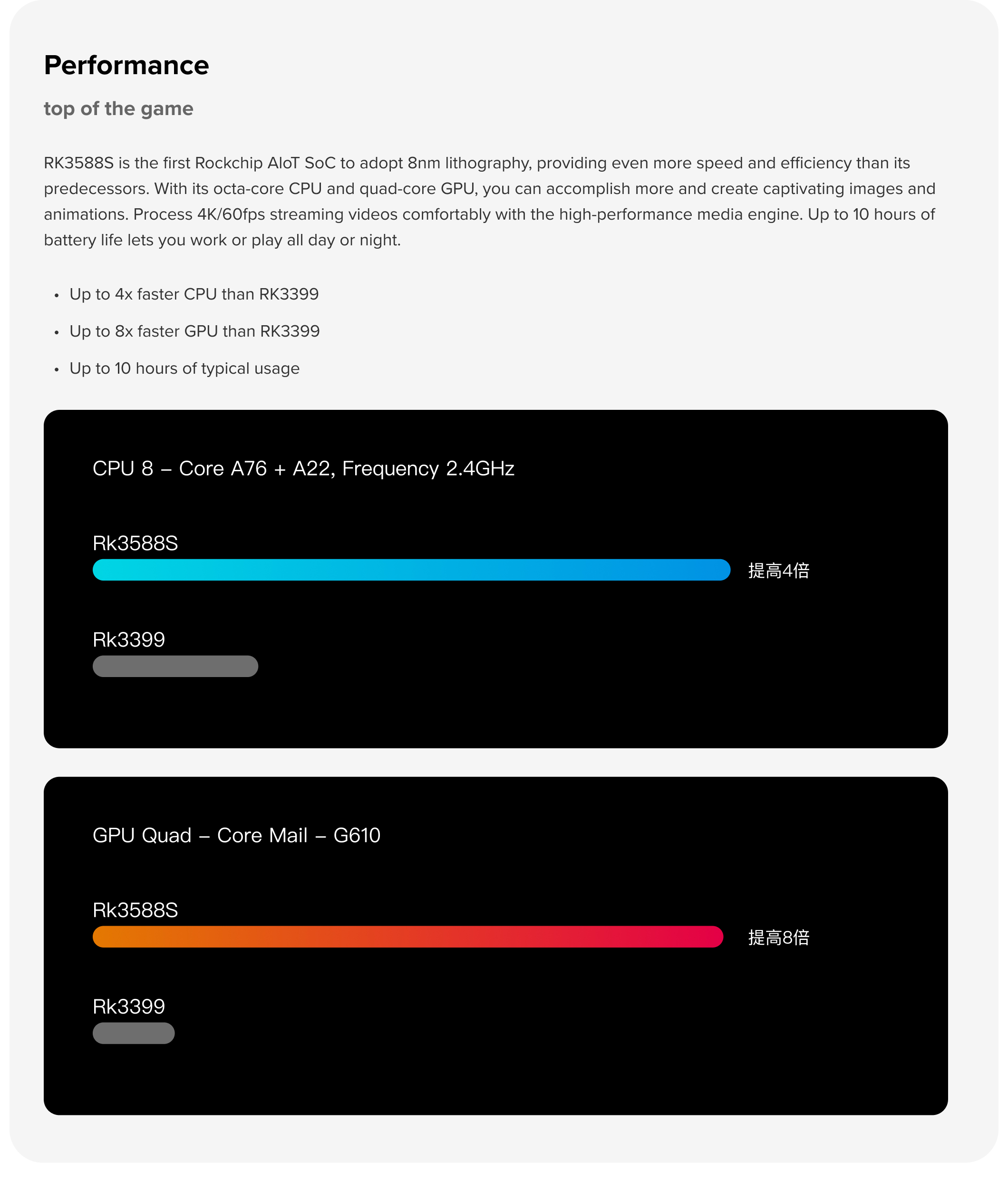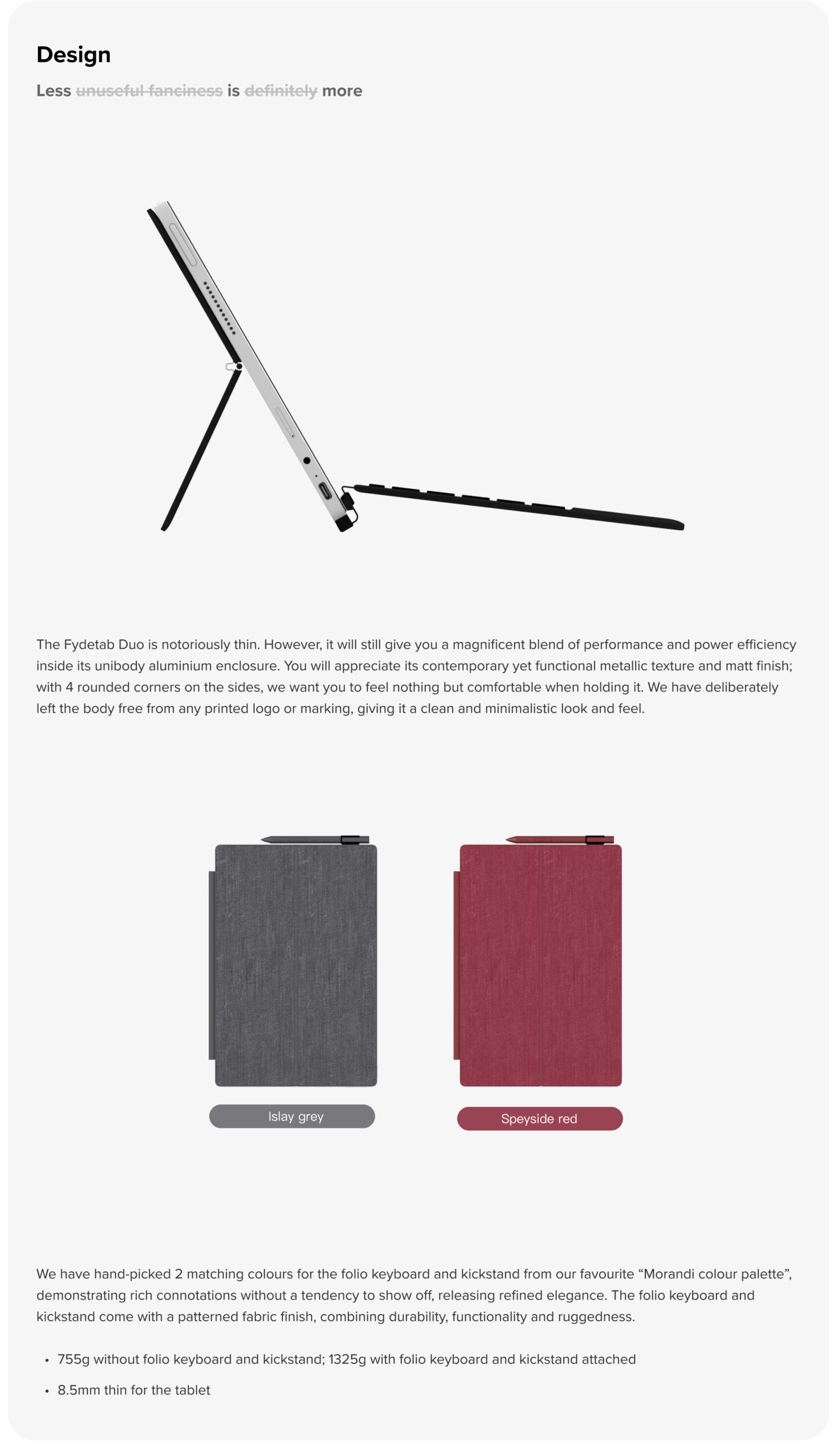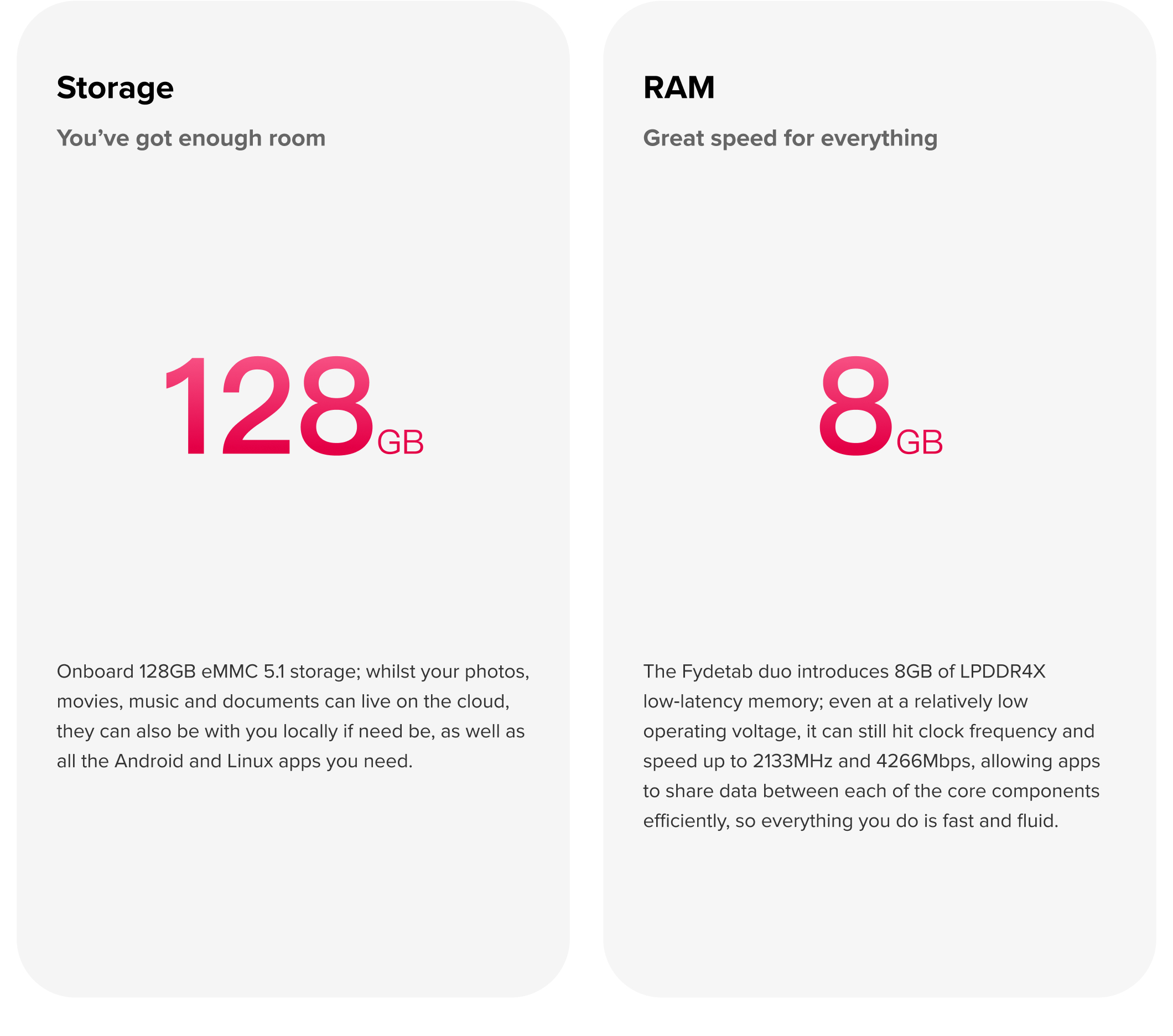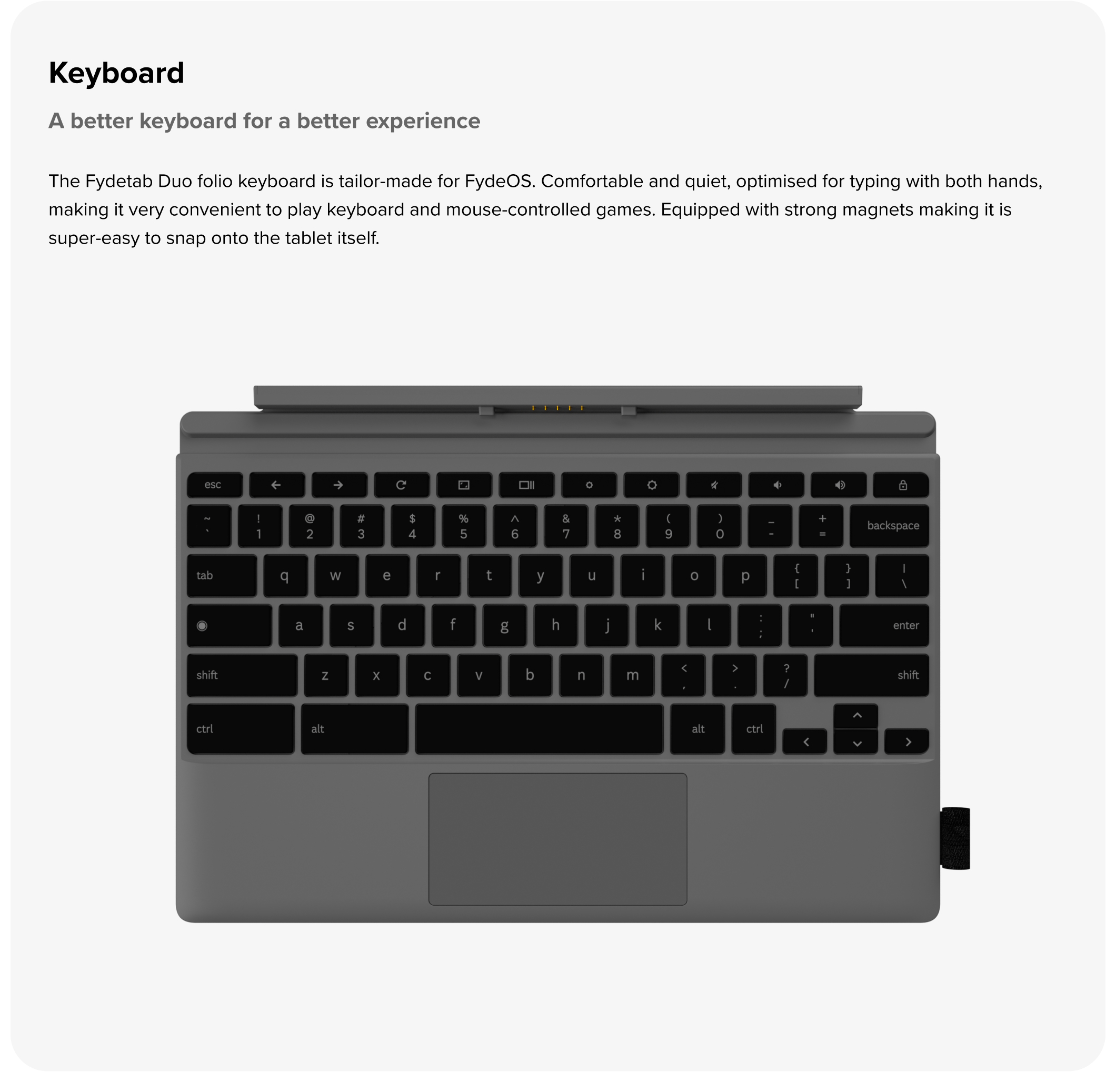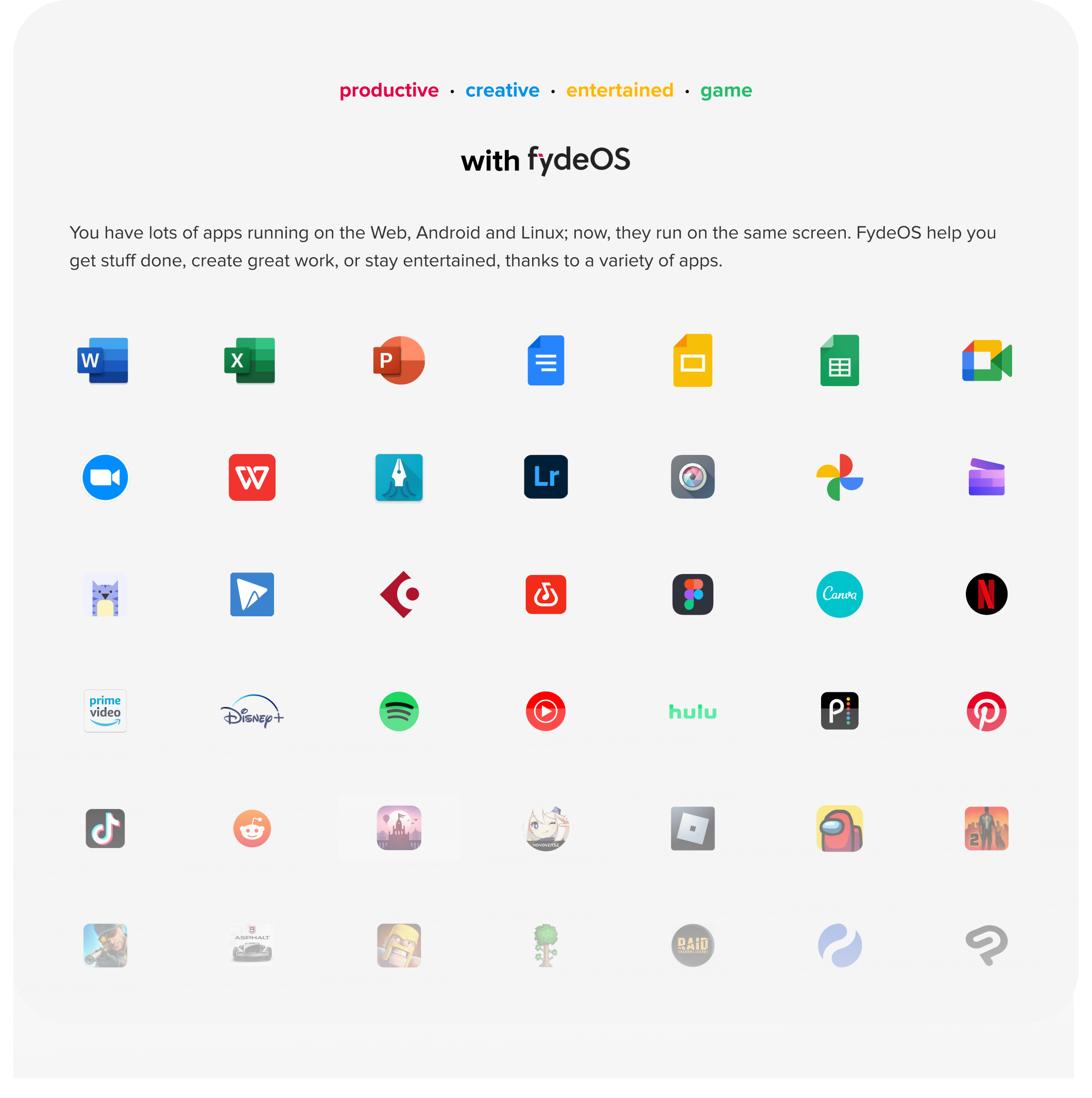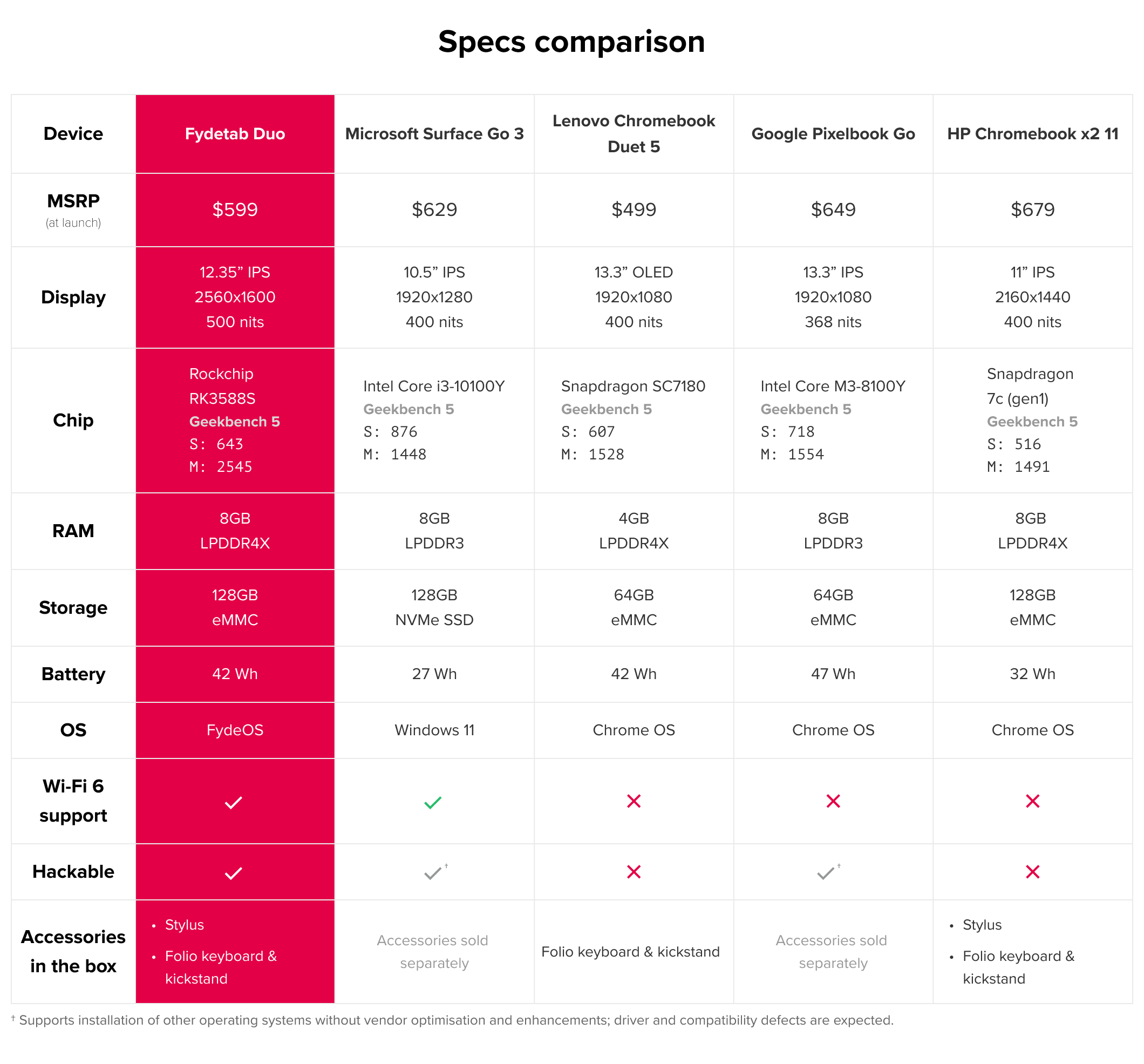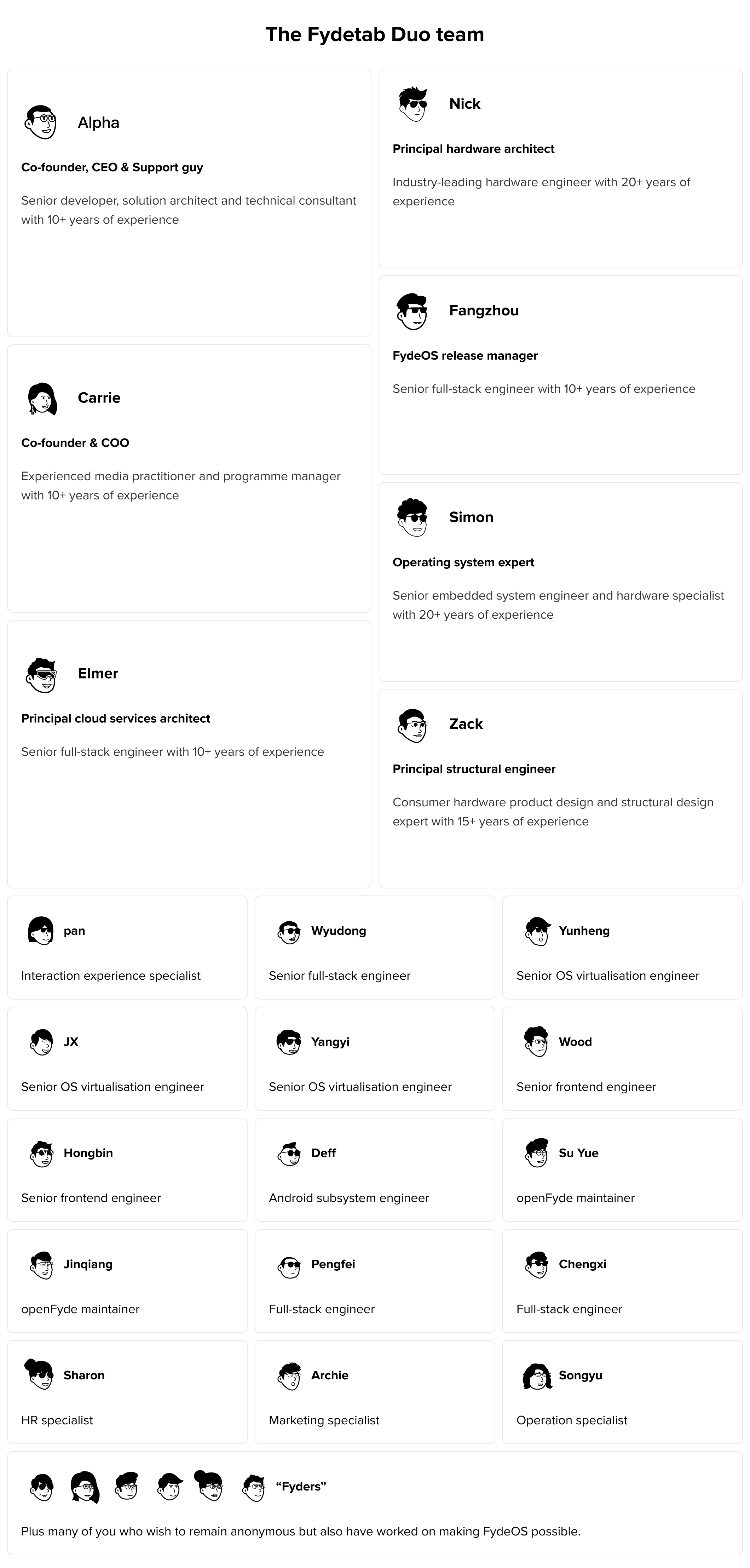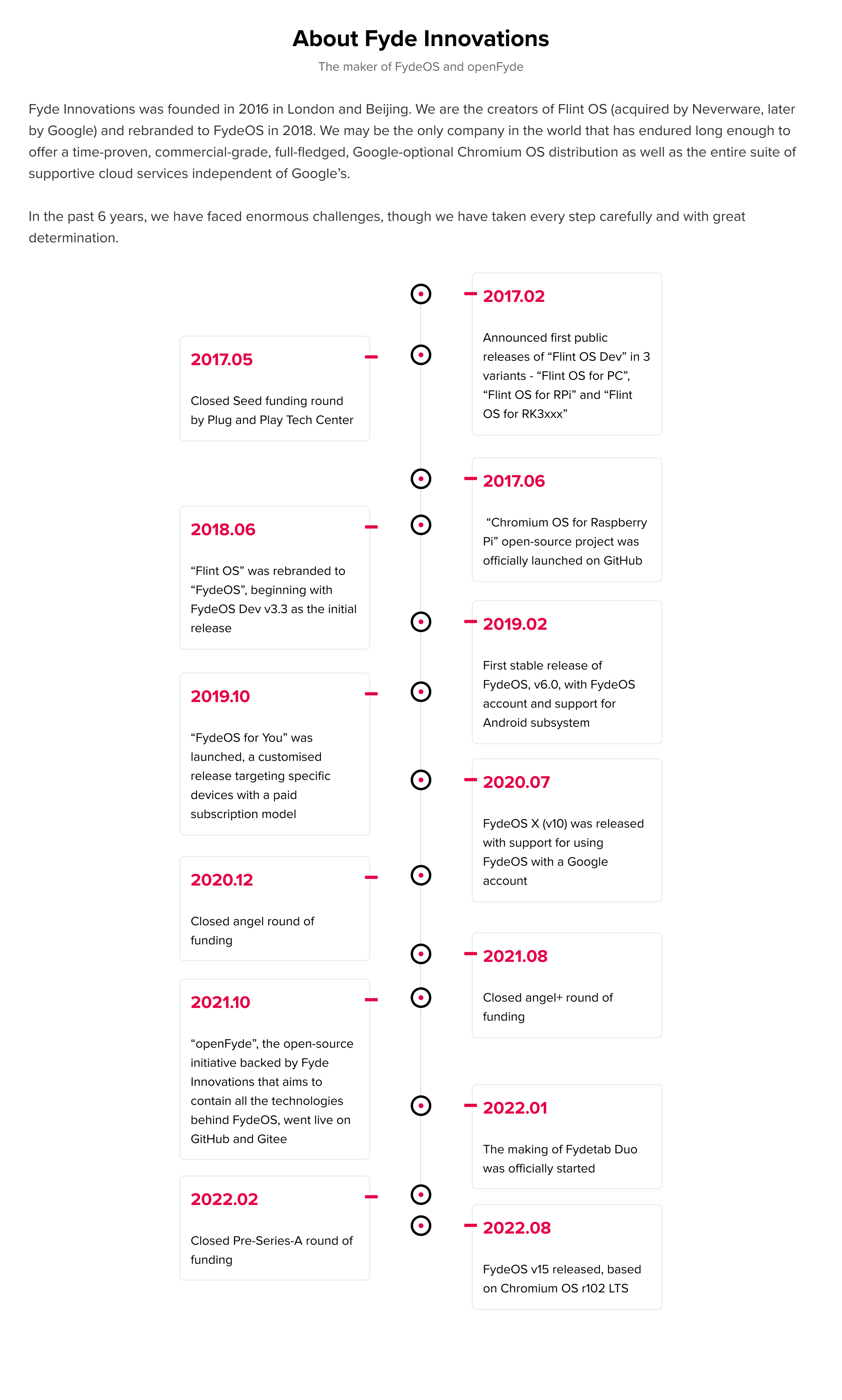 Additional information
What's in the box

Fydetab Duo – the tablet
Magnetic folio keyboard and kickstand
Stylus
45W USB-C charger
USB-C to USB-C charging cable
Paperwork with getting started guide and sticker pack

Color

Islay grey, Speyside red

Display

12.35-inch (diagonal) 2K QHD IPS display

Chip

RK3588S

Memory

8GB LPDDR4X RAM

Storage

128GB eMMC 5.1 SSD

Weight

Tablet only: 755g
Tablet with keyboard and kickstand: 1325g
FAQ
Why does it take so long to ship?
Fydetab Duo is the first hardware product designed completely in-house by Fyde Innovations since the beginning of 2022. It was initially planned to reach mass production and global shipment by Q3 2022. Unfortunately, due to various external influences and constraints (for details, check out this update from Indiegogo), the mass production of the Fydetab Duo had to be delayed unfortunately.
After a comprehensive assessment of the current situation, we expect to be able to start production and ship the first orders in Q1 2023, if things go well.
Therefore, before placing an order for your Fydetab Duo on this platform, please make sure to pay attention to the "estimated delivery time" in the product description, as it may change.
There are much cheaper tablets out there; how would you justify the price?
In terms of the hardware BOM (Bill of materials), the key components of the Fydetab Duo (screen module, battery, memory particles, sensors, camera, etc.) are selected from the best of their kind by the industry's most recognised suppliers. There are no second-hand components, recycled parts or things from suboptimal vendors.
FydeOS is an operating system that has been developed and maintained by Fyde Innovations for over 6 years and is recognised by millions of users and has a very high level of integrity, close to Chrome OS. The open bootloader and open-source hardware make Fydetab Duo capable of booting other open-source operating systems.
All of the above is not available on an average Android tablet.
Why aren't you selling it on Amazon with next-day delivery?
Because we are not a hardware company by nature.
Recently we have been asked a lot about the rationale for making the Fydetab Duo in the first place and our plans going forward. We want to emphasise that we are a system software company by nature. Our core product is FydeOS and its enterprise solutions. The making of the Fydetab Duo is our demonstration or proof that we can deliver a total solution with OS + software + hardware. It's not our intention to run the company JUST by shipping more hardware devices in the future. Having said that, no matter if we end up shipping a small or large number of the Fydetab Duo, we will be 100% committed to providing FydeOS service for at least 6 years, matching Chromebook devices.
To summarise, we have all the determination to ship these Fydetab Duo devices at top-notch quality and support with all our resources and sincerity, but, we may or may not do this again. There may or may not be a second batch of the Fydetab Duo to be manufactured. Hardware is hard, we know that now (>_<) but it's our inevitable too, if we wish to be a more substantial system software vendor in the game.
I have placed an order and paid for it on this platform. Can I get a refund if I change my mind?
Effective since Feb 2023
Sure, you can cancel any time before it's shipped. However, under our current terms with the payment platforms, they will charge a handling fee on every card payment transaction. This handling fee is non-refundable, even if we issue a refund for the transaction. After consideration, we believe it's only fair that if you change your mind and decide to request a refund before the item is shipped, you will have to cover the handling fee.
This means that if you have placed an order after Feb 2023 here and paid for it, and you have changed your mind to request a refund before the item is shipped, you will get a refund but with the payment handling fee deducted. The handling fee varies depending on your card issuer and clearing network, but it's in the region of 1%-5% of the total amount. The handling fee will be calculated and deducted if you request a cancallation and refund, we will notify you the exact amount by email.
We have also updated our payment process to indicate this refund policy, please read this thoroughly before placing an order.